Welcome everybody to JULIA BARRETTO FANSITE, a fansite completely devoted to Julia Barretto, Since our launch in 2008 we have been providing Julia fans with news, photos, and multimedia. Continue to visit the site, as we are your number one daily needs on everything Julia. Please take a look around, and visit back again, we appreciate your visit. Thank You.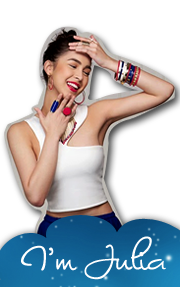 Julia Francesca Barretto Baldivia born March 10, 1997, the daughter of actor Dennis Padilla and former actress Marjorie Barretto.
>> read more
---
Wanna Add up your Fansite?. Contact Us
Do not pose as Julia Barretto, her family, friends, or management unless you are really her.
---
Keep in mind Julia barretto has younger fans that may browse the site, so keep the dialogue clean. Inappropriate messages will be deleted.
---
Do not spam or advertise, we won't hesitate in blocking you from participating with other visitors.
This site is only fan site. We are in no way affiliated with Julia, her management and we don't know anyone who is. All images are copyright to their respective owners, no infringement is intended. Thank you.
OUR SITE HOST:
Freehostia.com
Copyright © 2008 - 2014 julia barretto fansite
Julia Francesca Barretto Baldivia (born March 10, 1997), better known as simply Julia Barretto, is a Filipino child actress. She is a talent of ABS-CBN and Star Magic.
Barretto is the daughter of actor Dennis Padilla and actress Marjorie Barretto. Barretto has two sisters, Daniella (a fashion blogger) and Claudia, and one brother, Leon. Barretto is also the niece of two famous actresses Claudine Barretto and Gretchen Barretto. Barretto is part of the newly launched Star Magic Circle, Batch 19. Julia Barretto is also the star of the newly launched teleserye directed by Eric John Salut, Cofradia
---
Television
Television Appearances