Welcome everybody to JULIA BARRETTO FANSITE, a fansite completely devoted to Julia Barretto, Since our launch in 2008 we have been providing Julia fans with news, photos, and multimedia. Continue to visit the site, as we are your number one daily needs on everything Julia. Please take a look around, and visit back again, we appreciate your visit. Thank You.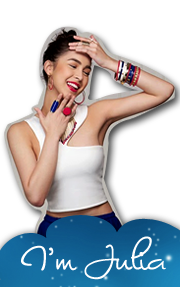 Julia Francesca Barretto Baldivia born March 10, 1997, the daughter of actor Dennis Padilla and former actress Marjorie Barretto.
>> read more
---
Wanna Add up your Fansite?. Contact Us
Do not pose as Julia Barretto, her family, friends, or management unless you are really her.
---
Keep in mind Julia barretto has younger fans that may browse the site, so keep the dialogue clean. Inappropriate messages will be deleted.
---
Do not spam or advertise, we won't hesitate in blocking you from participating with other visitors.
This site is only fan site. We are in no way affiliated with Julia, her management and we don't know anyone who is. All images are copyright to their respective owners, no infringement is intended. Thank you.
OUR SITE HOST:
Freehostia.com
Copyright © 2008 - 2014 julia barretto fansite
Extra Stuff for all of you
heys guys I know these are really old stuff but still wanna share it, dont worry i'll be making more new wallpapers for all of you. If you have something that you created for Julia you are welcome to submit it here and we are going to post it here. so everyone can see how awesome your creation are..sounds good?..then go ahead and send it now!..